NeuralScan Pro+

The NeuralScan system is a cutting-edge, hardware and software system that allows for an objective and neuro functional measurement of cognition using the electroencephalogram activity of the brain (EEG), electrocardiogram activity of the heart (ECG), visual and auditory processing speeds (evoked potentials), and subjective neuropsychological survey.

The NeuralScan system is a device designed to help physicians effectively measure and manage memory loss, cognitive impairment, and other stress-related neurological conditions. A neuro-functional physiology report of the results is provided, as well as a memory report including a second opinion, data summary, raw data, and images.

The NeuralScan system is portable, easy-to-use, non-invasive, and pain-free. A physician is not required to operate the device and it is covered by most insurance plans with attractive reimbursements.

The NeuralScan system enables physicians to obtain a collection of the patient's neuro-physiological biomarkers, which profile the patient's neurological function. This allows the physician to gain additional clinical information vital to making a well-informed patient-care decision.


Neuro-Functional Cognitive Assessment

Cognitive impairment can occur at any age for a variety of reasons, including: stress, dementia, head injury, sleep disorders, and pain. At the primary care level, current testing lacks the sensitivity and specificity to make accurate patient assessments. Until recently, it has been difficult to objectively assess patients for cognitive impairment due to the lack of specificity.

There is an increased need for physicians to test neuro-cognitive function due to the aging population, the prevalence of stress and pain, and increased awareness of the impact of head injuries on cognition. Cognitive symptoms can occur outside of normal age-associated memory loss. When assessing a head injury, physicians must be sure to accurately assess brain function in order to avoid legal repercussions. Without proper diagnosis, a head injury can have a severe negative impact on patient outcomes. Patients that are cognitively impaired can present with symptoms of confusion, forgetfulness, "brain fog," and functional impairment.

The NeuralScan system enables the physician to quickly and objectively assess cognitive impairment in the office in order to aid in the diagnosis of causative conditions. As the population ages, the prevalence and impact of cognitive impairment can have a significant effect on individuals, families, and society as a whole, A decline in cognitive abilities is now believed to be a process that occurs over 20 to 30 years, eventually leading to poor cognitive outcomes. Cognitive testing as early as the age of 45 can be beneficial. Current paper-based assessments used in primary care have difficulty determining the dementia subtype, resulting in less successful treatment outcomes. As many as 86% of deceased patients suffering from dementia were misdiagnosed with Alzheimer's Disease. The NeuralScan system can help assess patients up to 15 years prior to the onset of symptoms. Early detection of cognitive disorders allows for quicker treatment of the associated causes, such as nutritional deficiencies, stress, thyroid problems.

The NeuralScan aids in the assessment of both the Central Nervous Systems (CNS) and Autonomic Nervous Systems (ANS). The function of the CNS is determined through EEG activity, while the ANS is objectively assessed simultaneously through the ECG.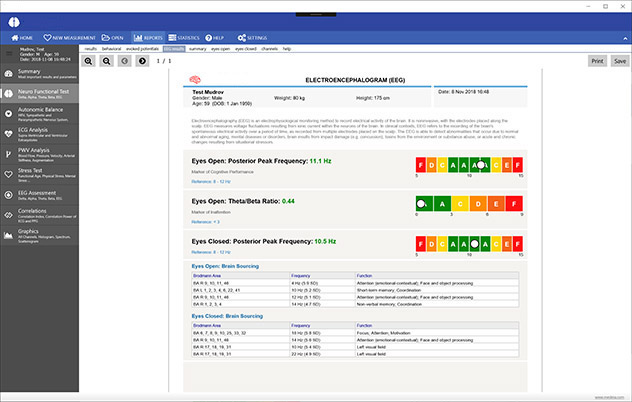 What is the NeuralScan System?

The NeuralScan system is both a hardware and software system that utilizes a 21-channel EEG, SpO2/PPG, and 3-lead ECG. The assessment requires the patient to take a neuropsychological questionnaire, which will assist with diagnosis. Essentially, the NeuralScan System provides a 'lab test' for the brain that can be performed in a doctor's office to assess for potential cognitive disorders. Each test is processed into an easily understandable report that includes brain health biomarkers. These biomarkers are determined using a quantitative EEG, brain processing speed (event-related potentials), LORETA imaging, and ECG.

Practical Benefits:


Improves clinical outcomes through early, objective assessment
Detects declines in memory markers 15 years prior to the manifestation of symptoms
Quick and easy functional assessment in the office
Uses ANS/HRV, EEG, and ERP as reliable measures for head injury
Empowers the physician to initiate necessary treatment early
Allows initiation of effective treatment options, altering the path of the disease state
Assesses pathology and ANS effects in patients suffering from chronic pain
Assists with biofeedback interventions
Provides a non-opioid treatment for patients suffering from chronic pain
How does it work?

The NeuralScan system works well in a variety of patient care settings, including primary care, pain management, internal medicine, and geriatrics. By aiding physicians in early and accurate diagnosis, this testing is extremely beneficial to patients. A medical assistant or member of the office staff can easily be trained to perform the test. It takes about 10 minutes to prepare the patient and 25 minutes to perform the test. The test consists of an initial questionnaire assessment, a simple functional assessment of patient response, and brain imaging. Free patient marketing materials and full training are provided to all necessary staff with ongoing support.

The NeuroScan system is an easy-to-use diagnostic tool that is vital to the assessment of cognitive disorders. Any physician caring for patients that are suffering from pain, stress, a head injury, or aging can benefit from offering this service. This test provides valuable and easy-to-interpret results that can lead to targeted treatment outcomes and positively impact patients' lives.


NeuralScan System Benefit

The NeuralScan System is a medical device that enables primary and specialty care physicians to assess brain function in the office, changes in cognitive function can be detected early and continuously and the results can be used to aid in making a clinical diagnosis. NeuralScan acquires biomarkers based on electroencephalography (EEG) and Event-related Potentials (ERP) that may assist doctors with:


Identifying the root cause of memory loss
Identifying MCI and memory loss more quickly
Performing a differential diagnosis of depression vs. dementia

The NeuralScan system is designed to help facilitate early and continuous understanding of changes in cognitive function. It allows primary care physicians, neurologists, psychiatrists, and other specialists to monitor the dynamic changes that take place throughout the brain during cognitive processing tasks.




The NeuralScan system is a state-of-the-art hardware and software system that also allows for brain training and improved cognition using electroencephalography (EEG) and electrocardiography (ECG).

The NeuralScan system does not require a physician to operate the device to aid in the diagnosis of memory loss and other cognitive disorders.

The test takes 25 minutes, so it is perfect for primary care and specialty physicians caring for patients with symptoms of memory loss.

NeuralScan's mission is to improve the diagnosis and treatment of cognitive disorders with objective, clinically meaningful, easy-to-use products. This allows physicians to assess brain health and aid in the diagnosis of memory loss and other cognitive disorders.

Before the NeuralScan system, the only brain assessment technology available that used EEG was not portable, used complicated accompanying software, and was not practical to use in a busy medical practice. The ability to rapidly, inexpensively, and reliably measure the functional health of the brain is important in regards to identifying numerous medical conditions. NeuralScan was born from our vision to develop a wireless, automated, rapidly deploying brain function measurement and treatment system that was also non-intrusive and low-cost.

The NeuralScan system is a wireless 21-channel EEG ERP and ECG amplifier that includes a dedicated laptop, testing supplies, and carrying case. The system utilizes high-quality circuit boards and components in order to allow for high-quality brain measures (EEG, ERPs), as well as important heart data.

The NeuralScan system is designed for technicians with any experience level to reliably record EEG ERPs and symptom inventories that are then analyzed and processed into useful reports that assist the physician with evaluating patient conditions and changes to the treatment plan. The system utilizes 21 sensors over the entire scalp, allowing for accurate LORETA source localization imaging of areas within the brain. This can help determine the source of patient symptoms, as well as potential targeted treatments.

The NeuralScan system is, by far, the easiest tool to use when diagnosing memory loss and other cognitive disorders. It also has the added benefit of offering EEG and heart rate variability biofeedback treatment capabilities, making it an ideal instrument in primary or specialist care facilities for the assessment and treatment of a wide range of patients.

The NeuralScan system is dedicated to developing and delivering the most important advances in brain science by solving the current gap in comprehensive brain assessments and training solutions. Because the brain orchestrates the actions of every system in the body, it is vital to provide a simple, low-cost functional brain test that can be provided in the office as part of a wellness visit and certainly should be provided if there are signs or symptoms detected in the clinical interview.

By offering objective measurements of brain function even if positive symptoms seem insignificant, we can often catch subtle abnormalities in the CNS much earlier and intervene sooner for improved outcomes.

By providing world-class service, NeuralScan has marked its territory in the industry and is gaining popularity and strong support of the international medical research community.

While early detection of memory loss and dementia are one of the best features of the NeuralScan system recording, there are other ways the data can be utilized. The non-invasive, low-cost. and easy to obtain EEG ERP measures allow for rapid biomarker detection. The NeuralScan system allows the doctor to visualize locations in the brain that are not functioning optimally and that may correlate to the symptoms that the patient is experiencing. These graphic images help the patient understand their collective condition. By seeing it on paper, it helps motivate the patient to adhere to early, life-changing interventions. By offering patients data that they can see and understand with more sensitive comprehensive results than a traditional paper and pencil screening test, doctors can offer interventions earlier and improve patient outcomes.

The system report is detailed with visuals and contains actionable, objective data with clinical relevance across a range of cognitive functions. With the full-length report, a brief two-page Memory Report that focuses on this key area of brain function can also be downloaded. NeuralScan offers the physician a view of the electrophysiological data in order to analyze the interpretation and clinical applications.

The NeuralScan advanced system, designed specifically for the non-neurologist physician, is a state-of-the-art hardware and software system that allows for an objective and expansive functional measurement of the brain and cognition. It facilitates early, continuous detection of changes in cognitive function and can be utilized as a diagnostic aid in the assessment of cognitive disorders. The software also provides quantitative information for informed medical, nutritional, and behavioral biofeedback interventions in order to optimize patient outcomes.

The standard system includes:


A workstation with an EEG 21-channel amplifier
Assessment and treatment software
Two reusable EEG caps
Package of cloud-based reports (one report per patient)
Assessment and treatment supplies
Secure physician's web portal access

An Easy-to-use, Objective Tool to Help Identify and Assess Cognitive Impairment

Traditionally, cognitive impairment has been assessed through subjective tests, such as the Mini-Mental Status Examination (MMSE). Now, with this system, there is an objective tool to help identify and assess cognitive impairment.

The NeuralScan system provides an objective and expansive functional measurement of the brain and cognition by using multiple electrophysiological technologies combined into one portable, non-invasive, easy-to-use device in the office.

These technologies include:


Electroencephalography (EEG)
Electrocardiography (ECG)
Event-Related Potential (ERP)
eLoreta Source Analysis

NeuralScan has made these advanced tools available and easy to use in everyday clinical practice. The core electrophysiological modalities inside the system are designed for the identification and assessment of dynamic changes that take place throughout the brain during cognitive processing tasks.

This helps clinicians to identify the following:


Cognitive function
Cognitive impairment
Biomarkers associated with memory loss and cognitive impairment
Function of the Autonomic Nervous System
Physiological function associated with memory loss, attention deficit, anxiety, and sleep disorders

This helps clinicians to assess the following:


Level of cognitive impairment
Physiological changes in cognitive function over time
Changes in cognitive performance, or function, associated with clinical therapies

Objectively Manage Memory Loss and Cognitive Function Over Time

The NeuralScan system provides clinicians with objective data that has a high degree of sensitivity in detecting subtle variations in brain activity and performance. The system can be used adjunctively with traditional, subjective clinical assessments in order to detect subtle abnormal deviations and any longitudinal changes that may otherwise go undetected when managing patients over time.

This system may be particularly effective in understanding a patient's response to therapy during the earlier stages of pathology. Early identification of physiological changes and proper clinical intervention may delay the progression of the disease process. The system can provide valuable information for clinicians as they seek to objectively define a patient's response to:


Pharmacological therapy
Nutritional supplementation
Behavioral therapy
Diet and exercise modifications
Neurotherapy

CPT Codes and Reimbursement
96138 - Neuropsych testing / evaluation; National Average Reimbursement: $38.92
95957 - Digital EEG Analysis; National Average Reimbursement: $274.62
95816 - EEG recording including awake and drowsy; National Average Reimbursement: $370.12
95930 - Visual evoked potential (VEP) Testing; National Average Reimbursement: $69.92
92585 -

Auditory evoked potentials for Evoked Response; National Average Reimbursement: $137.31

93040 - Rhythm ECG, 1-3 ECG leads with Interpretation and Report; National Average Reimbursement: $12.97

Total National Average Reimbursement: $903.86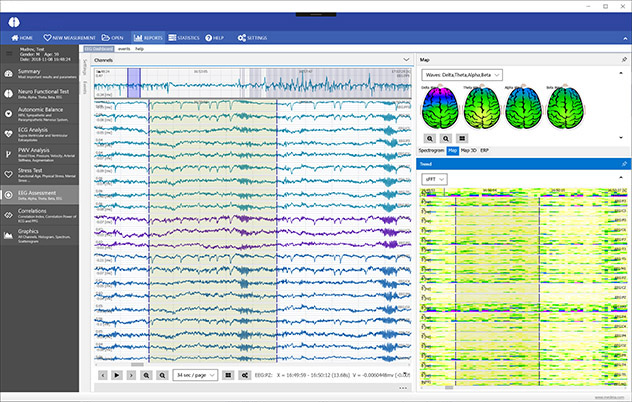 Neurocognitive Testing Overview
NeuralScan Sample Reports
Neurocognitive Sample Patient Questionnaire
Neurocognitive ICD10 Diagnosis Codes